1C-Bitrix: Site Management — Start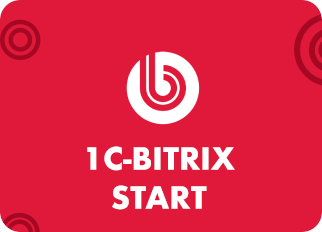 Suitable for:
Corporate websites.
Online stores.
Landings.
Info websites.
And other projects.
Cost 6 200 ₽ (≈ $88.57)
Bonus to the account 620 ₽
How to buy a license 1C-Bitrix: Site Management — Start
2
In the control panel, go to the "CMS Licenses", section.
3
Select the required edition of 1C-Bitrix CMS and order it.
4
Pay the license and get a bonus to your account.
What's Included in the license
CMS
Main module.
Sites24.
2 websites.
∞ page amount.
Structure management.
Info blocks.
Highload blocks.
Search.
Translation.
1C-Bitrix support and consulting
Marketing
SEO module.
Social services.
Bitrix24 integration.
Performance
Composite Site.
Compression.
Monthly CDN traffic: 5 GB.
Allowed number of servers is 1.
Performance Monitor.
Security and Mobility
Cloud Storages.
Auto backup to the cloud: 2 Gb.
Marketplace.
DDOS protection.
MySQL database.
License 1C-Bitrix: Site Management — Start
1C-Bitrix: Site Management — Start is a content management system that allows you to quickly create and maintain websites. It is the cheapest edition from the "1C-Bitrix: Site Management" series and includes the ability to create two sites, an infinite number of pages, support from 1C-Bitrix specialists, 5 GB of monthly CDN traffic and many other features. You can buy a license for "1C-Bitrix: Start" in Mchost: you can do this together with the purchase of hosting or separately via the control panel by registering at the "Constructor" plan.
Advantages of 1C-Bitrix: Start
License 1C-Bitrix: Start gives its owners the following benefits:
handy SEO optimization module;
management of the site structure, menus and access rights;
page editing in a handy visual editor;
the ability to implement search and information blocks;
when you first pay for a license, you get a cash bonus to your account.
About Mchost
We have been operating since 2004. Here you can order virtual hosting, VPS, dedicated server, issue an SSL certificate, register a domain name. We have developed favorable conditions for the partnership program: each registered user can attract new customers using a special referral link and receive from 20% of the orders they paid. To do this, it is not necessary to order hosting from us: anyone can become a member of the partnership program.
There are permanent promotions.
Bonuses to the account when purchasing CMS.
Free month when you switch from another provider.
Discounts when paying for our services for a long period.
Free domain when the hosting is payed for a year or more.
Details can be found on the "Promotions" page.
FAQ
What is 1C-Bitrix CMS?

1C-Bitrix CMS is a commercial content management system. With its help, you can create almost any site, add images to pages, change texts and any other content.

Why buy a license for 1C-Bitrix: Start?

1C-Bitrix: Start is, first of all, a commercial product. It is distributed on a paid basis. Therefore, in order to use it legally, you must purchase a licensed version.

What are the advantages for purchasing 1C-Bitrix: Start?

When you first order a license, you will receive a bonus to your account.

Which hosting plan can be used for 1C-Bitrix CMS?

You can use any shared hosting plan, but we recommend paying attention to the special one hosting for Bitrix.
Other popular services
SSL certificate

from 2590 a per month
(≈ $37)

Ispmanager 6 lite

from 399 a per month
(≈ $5.7)

1C-Bitrix: Standard

from 40900 a per month
(≈ $584.29)