1C-Bitrix: website management — Small Buisness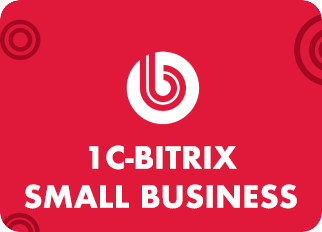 Suitable for:
Online stores.
Trading platforms.
Large corporate sites.
Projects of any complexity.
Cost 40 900 ₽ (≈ $467.43)
Bonus to the account 4 090 ₽
How to buy a license for CMS 1C-Bitrix: Small business
2
In the control panel, go to the "CMS Licenses", section.
3
Select the required edition of 1C-Bitrix CMS and order it.
4
Pay the license and get a bonus to your account.
What's Included in the license
CMS
Main module.
Sites24.
∞ number of websites.
∞ page amount.
Structure management.
Info blocks.
Highload blocks.
Search.
Translation.
Forums and blogs.
Photo gallery 2.0.
Online store
Shopping catalog.
CRM integration.
Store Management Master.
Warehouse management (1 warehouse).
Currencies management.
Security and Mobility
Cloud Storages.
Auto backup to the cloud: 4 Gb.
Marketplace.
DDOS protection.
MySQL database.
Proactive Defense.
Mobile platform.
Online store mobile application.
Push & Pull Technology.
Marketing
SEO module.
Social services.
Bitrix24 integration.
Web forms.
Polls.
Subscription and mass mails.
A/B testing.
Email Marketing.
Performance
Composite Site.
Compression.
Monthly CDN traffic: 20 GB.
Allowed number of servers is 1.
Performance Monitor.
Visual scaling.
Conversion pulse.
1C-Bitrix support and consulting
License 1C-Bitrix: Site management - Small business
CMS 1C-Bitrix: Small Business is the most popular edition of 1C-Bitrix: Site Management. It is great for creating online stores, corporate and information sites, trading platforms and other projects. The edition includes an unlimited number of sites and pages, technical support from 1C-Bitrix specialists, a module for testing the performance of web projects, and other useful tools. At "Mchost" you can buy a license "1C-Bitrix: Small business". At the same time, you will receive a cash bonus to your account, which is accrued only on the first purchase.
Advantages of 1C-Bitrix: Small business
Handy tools for working with an online store: shopping catalog, integration with CRM, store management wizard, warehouse management.
Possibility of A/B testing and e-mail marketing.
Conversion Pulse tool that shows which channels are more profitable.
The ability to implement search on the site, information blocks, forums and blogs, as well as other necessary features.
About Mchost
We have been working since 2004 and offer hosting services (shared, VPS, dedicated server). In addition, you can order an SSL certificate, a CMS license and register a domain name from us. Permanent promotions are available to our clients: a domain as a gift, discounts when paying for a long period, and others. Details can be found on the "Promotions" page.
If you do not need hosting or other services, you can sign up for the Constructor plan and participate in our partnership program. Attract customers through a referral link and get 20% from the orders they paid.
FAQ
What are the key features of CMS 1C-Bitrix?

Using CMS 1C-Bitrix, you can create sites of any complexity: from information sites and blogs to large online stores. In the future, even people without programming skills will be able to change the content on the pages: texts, images, videos, and other blocks.

Why buy a license for 1C-Bitrix: Small business?

1C-Bitrix: Small business is, first of all, a commercial product. It is distributed on a paid basis. Therefore, in order to use it legally, you must purchase a licensed version.

What are the advantages for purchasing 1C-Bitrix: Small Business?

When you first order a license, you will receive a bonus to your account.

Which hosting plan can be used for 1C-Bitrix CMS?

You can use any shared hosting plan, but we recommend paying attention to the special one hosting for Bitrix.
Other popular services
SSL certificate

from 2650 a per month
(≈ $30.29)

1C-Bitrix: Business

from 83900 a per month
(≈ $958.86)

1C-Bitrix: Standard

from 17900 a per month
(≈ $204.57)